A
Freestanding Tub
has several advantages. First, it offers flexibility. A freestanding tub is not attached to a wall and therefore can fit through doorways. Another advantage of a freestanding tub is its easy installation. Its skirt motor can be installed without removing the equipment access panel. The freestanding tub also offers numerous customization options. You can choose from a wide variety of colors and materials. Some manufacturers even allow you to pick a paint color from Sherwin Williams.
Regardless of your style or budget, a freestanding bathtub is an essential piece of bathroom furniture. The best freestanding tubs are designed with comfort and functionality in mind. It is the perfect fit for a mid-sized bathroom. Its ergonomic curves are designed to ease body tension and relax the mind. Its variable-width rim and smooth texture add to the soothing experience.
A freestanding tub can add a focal point to a room. It can look stunning with a three-panel mirror. It can be paired with a classic element or a bold color. For a vintage look, consider a solid marble surround. It will make a room look more spacious.
Another benefit of a freestanding tub is its symmetrical design. It is easy to install compared to a built-in tub, and it allows more flexibility for a contractor. It also provides a powerful focal point in a room. In fact, it can be treated like a sculpture in a room.
Freestanding tubs are generally longer and wider than their smaller counterparts. The width and depth of a freestanding tub are usually around sixty to seventy inches. A freestanding tub should have at least four inches of free space around the edge of the bathtub. A freestanding bathtub can also fit in a small space.
One disadvantage of a freestanding bathtub is its lack of storage. Because it lacks a ledge or deck, it can be difficult to store toiletries or cosmetics. But this disadvantage can be mitigated by creative storage ideas, such as bathtub trays or rolling caddies. The height of a freestanding tub can also make it difficult to get in and out.
Another advantage of a freestanding bathtub is its versatility. These bathtubs can be placed anywhere in the bathroom, including a corner or under a stairway. However, freestanding bathtubs are more difficult to maintain, due to the exposed exterior. They require regular cleaning around them and underneath them.
Freestanding tubs come in different shapes. One of the most popular freestanding tubs is the slipper tub. A double slipper bathtub is higher than the other tub styles. This makes it more ergonomic. Its shape also makes it more comfortable. In addition, you can add optional features to customize it, such as a removable shelf or bath caddy.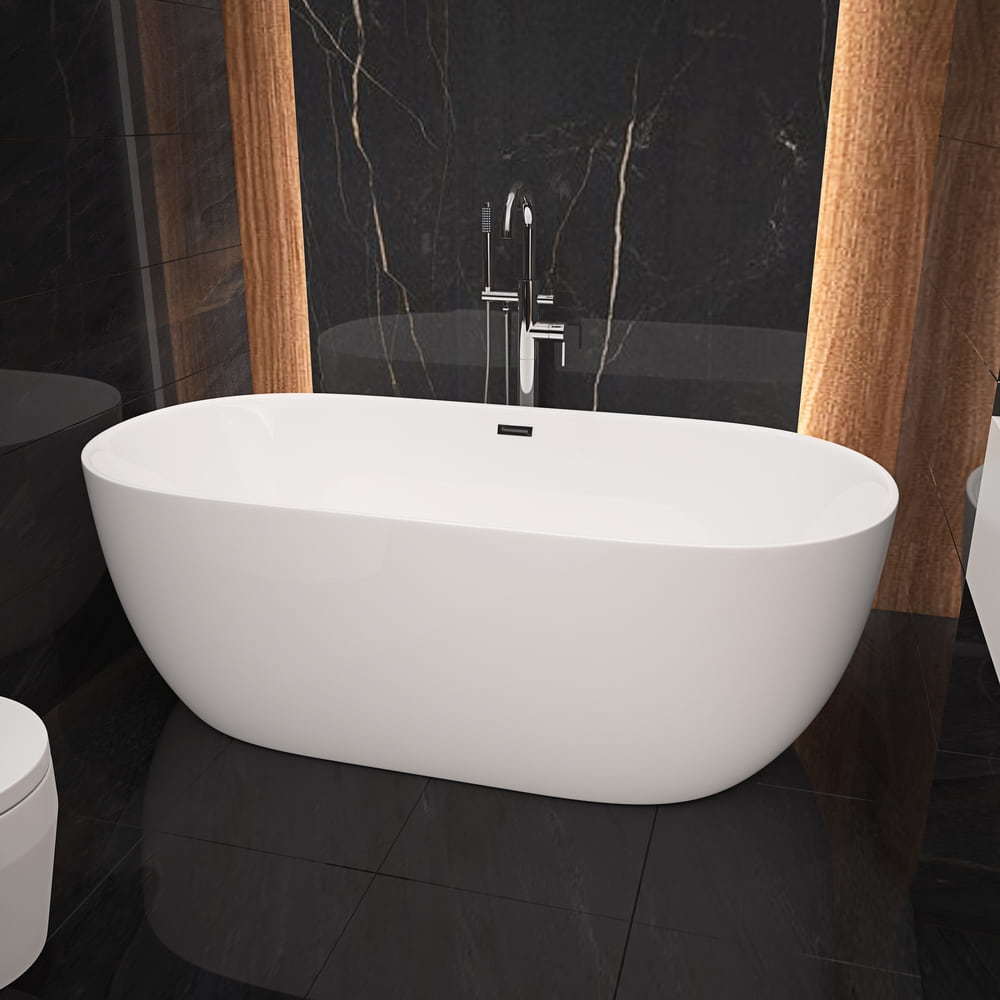 67'' Oval Freestanding Bathtub RL-MF1235/1708